Evinrude
During a romantic picnic on a Wisconsin lake, Bess Cary tells her fiancé, Ole Evinrude, that she'd love a dish of ice cream. While rowing back to shore Ole decides the trip would be a lot easier if his rowboat had a motor, and he soon invented the first outboard motor in 1909. All Evinrude E-TEC outboard engines are today assembled at BRP state-of-the-art manufacturing facility at Sturtevant, Racine County, Wisconsin, United States. BRP bought the Evinrude and Johnson brands in 2001, eventually retiring the Johnson name. Today BRP Evinrude motors are generally publically referred to as Evinrude outboards. Whether your outboard is branded Evinrude Johnson, Johnson Evinrude, or simply Evinrude, at Don Morton Marine you can be assured supply of genuine manufacturer parts made by BRP Evinrude.

Don Morton Marine: Authorised BRP Evinrude Outboard Motor Dealer, Adelaide, South Australia. Evinrude E-TEC sets the performance standard for outboard engines. Evinrude E-TEC G2 outboard engines have the lowest total exhaust emissions of all combustion outboard engines and are the most fuel efficient marine engines available. There is an an Evinrude outboard designed for every type of boating application - be it Aluminium, Fish & Ski, Inshore, Offshore, Rigid Inflatable, Runabout or Commercial Charter. Our knowledgeable staff look forward to assisting you with your enquiries. It's what we do ! Enquire Now.
Genuine Spare Parts: Take advantage of Free Freight options on genuine Evinrude Johnson parts when ordered through our Local Online Store. These fees are generally waived on Orders that exceed a stock value of $55.00. Please refer the policy information tabs associated with each Buy Online product for more information .

BRP Parts Catalog : With BRP Parts Catalog © copyright Bombardier Recreational Products Inc you can search by Year and HP for parts for your Evinrude Johnson marine outboard. Assembly types are presented in detail and with exploded schematic views. You can then generate your own personal list of marine outboard parts which can be ordered from Don Morton Marine or your Local BRP dealer.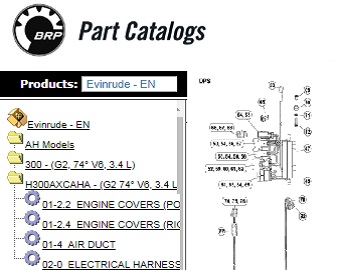 Try our Online Store for all marine spare parts - now with PayPal, credit card & free freight options. Adelaide to Perth, Darwin, Brisbane , Sydney, Melbourne, Hobart.
Don Morton Marine - your Marine, Boating & Industrial Power Specialist !
Evinrude E-TEC ® G2 Learn More >