Evinrude
During a romantic picnic on a Wisconsin lake, Bess Cary tells her fiancé, Ole Evinrude, that she'd love a dish of ice cream. While rowing back to shore Ole decides the trip would be a lot easier if his rowboat had a motor, and he soon invented the first outboard motor in 1909. Whether your outboard is branded Evinrude Johnson, Johnson Evinrude, or simply Evinrude, at Don Morton Marine you can be assured supply of genuine manufacturer parts made by BRP Evinrude.

BRP Parts Catalog : With BRP Parts Catalog © copyright Bombardier Recreational Products Inc you can search by Year and HP for parts for your Evinrude Johnson marine outboard. Assembly types are presented in detail and with exploded schematic views. You can then generate your own personal list of marine outboard parts which can be ordered from Don Morton Marine or your Local BRP dealer.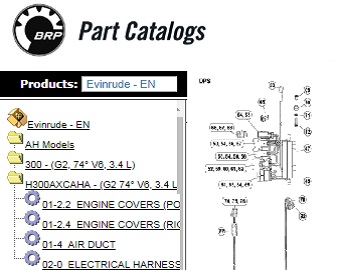 Don Morton Marine - your Marine, Boating & Industrial Power Specialist !